Most visceral of 2018
Most Visceral of 2018
The scariest movie of March 2018
The Endless (23 March 2018)
Director: Justin Benson, Aaron Moorhead
Writers: Justin Benson
Starring: Justin Benson, AAron Moorhead
Synopsis: Two brothers, Justin and Aaron, in an attempt to find solace after escaping an UFO cult over ten years ago, go right back to the denomination to obtain closure after viewing a convincingly potent video message about the sect. This independent movie is a complete mind-melt! Prepare yourselves for an epic twist!
"This movie will keep you on edge through its entirety"
The scariest movie of April 2018
A Quiet Place (6 April 2018)
Director: John Krasinski
Writers: John Krasinski, Scott Beck, Bryan Woods
Starring: John Krasinski, Emily Blunt
Synopsis: This real life couple pairs up to greet the silver screen with some of the best performances as of yet. They are stunningly gripping. The children played by Millicent Simmonds, Noah Jupe and Cade Woodward are exquisite as well in their roles. Each camera angle, each little movement, each sound just sends waves of involuntary emotions throughout. We do not know what to fear yet in the first scene but we can sense something otherworldly indeed will cause many shrieks. This is a superb movie that sends a powerful message - Even if it's the end of the world as we know it, parents have the obligation to care for their children and to fight for their survival.
"Pure Mindf*ck"
The scariest movie of June 2018
Hereditary (8 June 2018)
Director: Ari Aster
Writers: Ari Aster
Starring: Toni Collette, Alex Wolff, Gabriel Byrne, Milly Shapiro
Synopsis: I love Toni Collette but I never pictured her in such a terrifying premise. All I can tell you is to get ready to scream like a little school girl on her first halloween. All in all there are more WTF moments in that film than all four seasons of "1000 ways to die".
"Dial H for horrifying as hell"
The most suspenseful horror movie of August 2018
The Little Stranger (31 August 2018)
Director: Lenny Abrahamson
Writers: Lucinda Coxon, Sarah Waters
Starring: Domhnall Gleeson, Will Poulter, Charlotte Rampling, Ruth Wilson
Synopsis: Based on the 2009 novel of the same name, this ghost story is nothing short of depth and suspense. A country doctor newly assigned to a mysterious family in a dilapidated mansion will find that there is always more that meets the eye when it comes to mental illness and a big old house. Dr. Faraday's past and future are forever intertwined with the Ayres but does he know?
"A gothic tale"
The most suspenseful horror movie of September 2018
Hell Fest (28 September 2018)
Director: Gregory Plotkin
Writers: Chris Sey, Seth M. Sherwood
Starring: Bex Taylor-Klaus, Amy Forsyth
Synopsis: On a Halloween night, all scares are welcomed in a theme park outfitted to serve up fake bloody kills. But an unhinged killer is on the loose at the park. How long will it take everyone to suspect something is wrong? I could not help to think this premise is a brainchild of Westworld meets Scream.
"Scary as hell"
The darkest horror movie of October 2018
Suspiria (26 October 2018)
Director: Luca Guadagnino
Writers: Dario Argento, Daria Nicolodi
Starring: Dakota Johnson, Tilda Swinson, Chloë Grace Moretz
Synopsis: A hauntingly well reimagined version of the classic 1977 film. All of the women in that premise transcend in their roles. Be warned it is a two hour and a half watch of intense epically grueling conceptualization of the witchcraft-horror subgenre. Guaranteed to make you feel on edge and violated through and through!
"Dark as hell"
Tees
TBHMManiacs Tees: Limited print via Teespring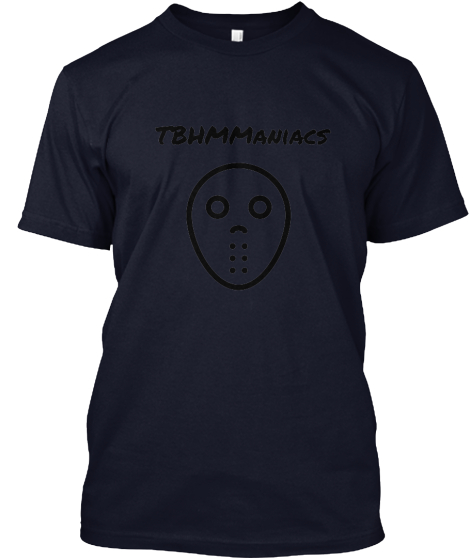 Click on shirt to purchase!
Happy December TBHMManiacs!!!
TBHMManiacs... We want you!
Copyright © 2006-2018 TBHM. ALL RIGHTS RESERVED