How do you take your Horror?
Bloody, Ghostly, Scary as Hell or kinda ghastly...?
TheBestHorrorMovies.com (TBHM) is dedicated to horror movie fanatics everywhere that we affectionately nickname TBHMManiacs. We focus on reviewing and recommending the Best of The Three Levels of Horror which are-- Dark Comedy, Slasher, and Supernatural movies. We celebrate both the horror movie heroes and villains (We have our reasons). We strive to introduce each year our wildest selection of Horror movie hotties and hunks (We assure you, our picks are cleverly enticing with your votes of course). We extend our love to our unique scary movie writers and directors by featuring one of our mutual favorites in our Horror giant section annually. We accept your votes to create our yearly top rated lists. TBHM is here to support the greatest horror films by reviewing and recommending them to you via curated lists on our site. We have plenty of juicy Horror topics that we update somewhat weekly (AD military) such as WTF Horror Moments and Dare you to watch. Check us out and Spread your Horror!
MAJOR SPOILER ALERT!!!
Title: Glass (2019)
"You cannot contain what you are"
Glass was a highly anticipated movie. I loved Unbreakable, and was amazed by Split. I went to watch it as soon as it was out in theaters, I can assure you I would have never expected Glass to take this turn. One thing we can agree on, is that James McAvoy stole every scene as he portrayed 21 personalities so flawlessly well. There were also so many WTF moments in this third installment of the trilogy. The one hand-picked for you today is the revealed villain. Yes you must say to yourself, we already know Kevin with his superhuman personality "The Beast" and Elijah with his pseudonym "Mr. Glass" are the true villains. I agree they are in their own rights, the established villains of the series. However, the ultimate villain is revealed at the end and it rocked my world!
The Superhumans
"They will be missed"
"Don't trust this 'psychiatrist'"
"Only a true hero or villain can make this coat work so well"
"Meet 'Ellie Staple'"
The WTF: As you should already know, Kevin and his multiple personalities, Elijah Price aka Mr. Glass, and David Dunn aka the Overseer, the true superhero but vilified by Dr. Staple are all dead in the final act. However, before David dies Ellie Staple lets him touch her and he can see her for who she really was and her motives. The clandestine society she is a part of is dedicated to track and eradicate superhumans both villains and heroes while hiding their existence from the rest of the world.
The best horror movie of February 2019
The Prodigy (8 February 2019)
Director: Nicholas McCarthy
Writer: Jeff Buhler
Starring: Taylor Schilling, Colm Feore, Jackson Robert Scott, Peter Mooney
Synopsis: I was reluctant to go watch The Prodigy, because it gave me a feel of Case 39. I was in the mood for a big bad scare and let me tell you, The Prodigy did just that. They pushed the envelop with this child actor as Miles portrayed a perverse little creep so well. Miles was born on the same night, a serial women killer was shot dead. Miles grows up to be talented beyond his years with a side of sinister. I went with my bf to watch the movie when it first came out, he liked it, I was iffy and bewildered by this trope. Overall, the characters were well developed and Jackson is simply exquisite in every scene. The premise explores a different angle in outer, and inner body experiences. Don't expect any happy endings.
"Miles!"
"He doesn't feel much like himself!"
"He is simply not himself"
"The Prodigy is skin deep creepy"
Happy March TBHMManiacs!!!
TBHM Tip #8: Beware of overly "clever" children!
Tees
TBHMManiacs Tees: Limited print via Teespring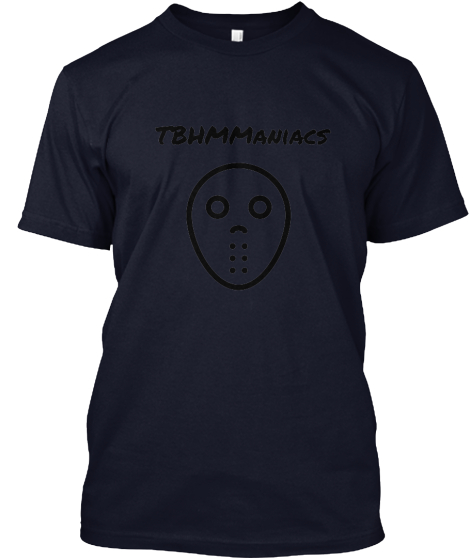 Click on shirt to purchase!
Links Contact Us Frequently Asked Questions
Terms & Conditions Privacy Policy Home
Copyright © 2006 - 2019 TBHM. ALL RIGHTS RESERVED