How do you take your Horror?
Bloody, Ghostly, Scary as Hell or kinda ghastly...?
TheBestHorrorMovies.com (TBHM) is dedicated to horror movie fanatics everywhere that we affectionately nicknamed TBHMManiacs. We focus on reviewing and recommending the Best of The Three Levels of Horror which are-- Dark Comedy, Slasher, and Supernatural movies. We celebrate both the horror movie heroes and villains (We have our reasons). We strive to introduce each month our wildest selection of Horror movie hotties and hunks (We assure you, our picks are cleverly enticing with your votes of course). We extend our love to our unique scary movie writers and directors by featuring one of our mutual favorites in our Horror giant section annually. We accept your votes to create our yearly top rated lists. TBHM is here to support the greatest horror films by reviewing and recommending them to you on our site. We have plenty of juicy Horror topics updated weekly such as WTF Horror Moments and Dare you to watch. Check us out and Spread your Horror!
Our
Hotties and Hunks of 2015 so far
...
Spoiler Alert!
Title: Shaun of the Dead (2004)
Ever felt like you were surrounded by Zombies?
Actors: Simon Pegg, Nick Frost
Scene: Shaun and Ed are charming invalids who become the unlikely heroes as their beloved Bristish town falls prey of a zombie outbreak. They devised a great plan for their survival but too many Chiefs and not enough Indians caused it to fall short as Ed inevitably gets bitten by Pete. We could not possibly imagine to have a moment of sadness from this exceedingly permissible laughing out loud trope as we all assumed it was the end of our hateship loveship affair with Ed.
Why: The zombie apocalypse has been subsided (under control) and the remaining undamaged population went on with their cherry lives whilst using the zombies for labor and entertainment. Shaun now lives with Liz and we are rather pleased for them. But in the shed, Zombie Ed survived as Shaun's best 'pet'! Major WTF moment for me as I could not reconcile the idea of Ed ever being restrained.
News
TBHMManiacs, to stay up to date with TBHM's upcoming or past events click on our calendar.
Enjoy February TBHMManiacs!!!
The Lazarus Effect takes to theaters February 27 - Seems interesting and obscure enough a la Flatliners. Must-See of February!
Starring: Olivia Wilde and Evan Peters. Let me know what you thought and cast your votes for the best of 2015!
A fundraising project prompted after seeing so many homeless in the streets in this freezing cold windy winter. All Proceeds will go to highly credible Bridgeway Community Church to help shelter the homeless in Maryland. It's cold outside, think about someone who actually lives outside. Death toll is rising from the cold season. Click donate and help keep someone warm today!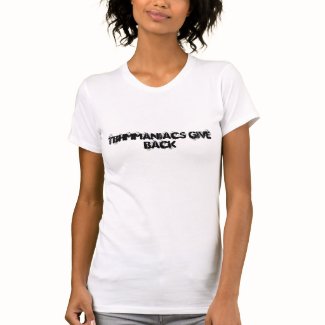 Help the homeless campaign
by
TBHMManiacs
Look at Tbhmmaniacs T-Shirts online at
Zazzle.com
Links Contact Us Frequently Asked Questions
Terms & Conditions Privacy Policy Home