How do you take your Horror?
Bloody, Ghostly, Scary as Hell or kinda ghastly...?
TheBestHorrorMovies.com (TBHM) is dedicated to horror movie fanatics everywhere that we affectionately nickname TBHMManiacs. We focus on reviewing and recommending the Best of The Three Levels of Horror which are-- Dark Comedy, Slasher, and Supernatural movies. We celebrate both the horror movie heroes and villains (We have our reasons). We strive to introduce each year our wildest selection of Horror movie hotties and hunks (We assure you, our picks are cleverly enticing with your votes of course). We extend our love to our unique scary movie writers and directors by featuring one of our mutual favorites in our Horror giant section annually. We accept your votes to create our yearly top rated lists. TBHM is here to support the greatest horror films by reviewing and recommending them to you via curated lists on our site. We have plenty of juicy Horror topics that we update somewhat weekly (AD military) such as WTF Horror Moments and Dare you to watch. Check us out and Spread your Horror!
MAJOR SPOILER ALERT!!!
Title: Summer of 84 (2018)
"Every serial killer lives next door to someone"
The movie started out with Davey narrating the story of the Cape May Slayer and emphasizing on the notion that a serial killer always lives next door to someone. Davey has three friends that he coerces into helping him to gather "evidence" on his neighbor Mackey, the cherished police officer of his hometown. We learn that the Cape May Slayer is responsible for 13 deaths and Davey, the son of the journalist that covered the story, is certain that Mackey is the slayer disguising himself as the reliable and friendly neighbor in their suburban community. The cinematography was well captured as you would feel that you have traveled back in time, 1984 to be exact. Summer of 84 was fluid and contained all of the hallmark of a 80's movie: 80's music? check; hottie spending unnervingly a lot of time with a nerd? check; band of nerds? check; PG rated voyeurism? check; band of nerds riding bicycles? double check; 80's game? check; super hot neighbor? check, check; psycho killer? double check. This movie had a variety of WTF moments for instance, the basement full of "souvenirs", the "bathtub", the "family" pictures all over the house etc...but the one handpicked for you today is the ending. Beware kids get snatched outside!
Oh no...kids played outside (manhunt) in the 80's...
"Hottie splurging her affection on a nerd...no way"
"Handsome car"
"Your friendly Neighborhood Watch"
"Your neighborly police officer"
The Ending: Once the Cape May Slayer is revealed, the whole town is on the lookout for him but this serial killer hid in the least suspected place possible, Davey's attic. He snatches Davey and Woody from Davey's bedroom right under the nose of Davey's parents. The killer flips the script on Davey; he places him and Woody in his cadaver disposal lair. He slits Woody's throat after several failed attempts to escape this psychopath's grip but he spares Davey. This calculated murderer poisons Davey's mind by mentally paralyzing him with paranoia of his imminent return someday. So Davey has to live with not only Woody's death on his conscience but also constantly watching his back.
The best horror movie of December 2018
Bird Box (21 December 2018)
Director: Susanne Bier
Writer: Josh Malerman, Eric Heisserer
Starring: Sandra Bullock, John Malkovich, Trevante Rhodes, Danielle McDonald, Lil Rel Howery, Jacki Weaver, Machine Gun Kelly, Sarah Paulson, Julian Edwards, Vivien Lyra Blair
Synopsis: Bird Box delivers with an impeccable cast, a suspenseful non-linear storyline, seen and unseen boogeymen. I was hooked from the very first scene. Bird Box takes you on a journey, yes literally and figuratively. It is an unwanted pregnancy, birthing, apocalyptic, post-apocalyptic and survivalistic trope all wrapped into one; similarly to World War Z, it shows you the before, the during and the after. It also reminded me of The Mist, The Crazies, A Quiet Place and Lost. It felt original yet there were moments in it that resonated with a previous memory and caused me to thirst even more. The characters are not unique but uber compelling; they are smart, heartless, vindictive, idiotic, funny and serious when they need to be. Bird Box is a complex story with various themes, but at the end of the day, it is the story of a disciplined and reluctant mother who finds herself pinned down with the fall of civilization and the emergence of evil spirits that force sane people to commit suicide once they "see" them. You will have to be completely impenetrable not to be immersed in the Bird Box.
"Bird Box is a how to for the end of days"
Happy February TBHMManiacs!!!
TBHM: Party responsibly this weekend!
Tees
TBHMManiacs Tees: Limited print via Teespring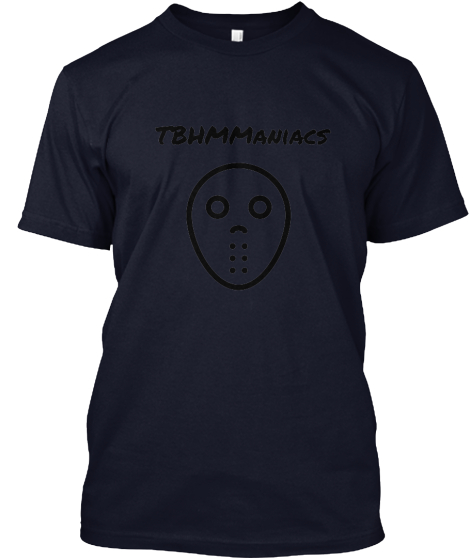 Click on shirt to purchase!
Links Contact Us Frequently Asked Questions
Terms & Conditions Privacy Policy Home
Copyright © 2006 - 2019 TBHM. ALL RIGHTS RESERVED