How do you take your Horror?
Bloody, Ghostly, Scary as Hell or kinda ghastly...?
TheBestHorrorMovies.com (TBHM) is dedicated to horror movie fanatics everywhere that we affectionately nickname TBHMManiacs. We focus on reviewing and recommending the Best of The Three Levels of Horror which are-- Dark Comedy, Slasher, and Supernatural movies. We celebrate both the horror movie heroes and villains (We have our reasons). We strive to introduce each year our wildest selection of Horror movie hotties and hunks (We assure you, our picks are cleverly enticing with your votes of course). We extend our love to our unique scary movie writers and directors by featuring one of our mutual favorites in our Horror giant section annually. We accept your votes to create our yearly top rated lists. TBHM is here to support the greatest horror films by reviewing and recommending them to you via curated lists on our site. We have plenty of juicy Horror topics that we update somewhat weekly (AD military) such as WTF Horror Moments and Dare you to watch. Check us out and Spread your Horror!
MAJOR SPOILER ALERT!!!
Title: Venom
"Eating bad guy"
Venom was a guilty pleasure for me. I anticipated going to watch it the first two weeks it was out because of peer pressure, yes the worse, boyfriend naying. Let me say that Tom Hardy is to Venom what Ryan Reynolds is to Deadpool. He was born to play that underdog of an anti-hero character who literally eats his enemy. Yes most of us have read the comics but what is undoubtedly the most nail-biting cringefest is watching our favorite characters portrayed poorly on the big screen. Venom is a parasitic alien who co-habitates Eddie Brock's body and in turn grant his host super strength, invincibility, and courage under fire. Venom has a voracious appetite for flesh, a dark humorous killing attitude and hates being called a "parasite". I enjoyed every minute of Venom's duality, its cynicism, its hidden message, its catchphrases and its over the top WTF moments! The WTF moment picked out for you this week is "Eat the bad guy in front of the clerk".
He called Eddie Brock a loser over half a dozen times...
"He eats only the bad guys"
The darkest horror movie of October 2018
Suspiria (26 October 2018)
Director: Luca Guadagnino
Writers: Dario Argento, Daria Nicolodi
Starring: Dakota Johnson, Tilda Swinson, Chloë Grace Moretz
Synopsis: A hauntingly well reimagined version of the classic 1977 film. All of the women in that premise transcend in their roles. Be warned it is a two hour and a half watch of intense epically grueling conceptualization of the witchcraft-horror subgenre. Guaranteed to make you feel on edge and violated through and through!
"Dark as hell"
Happy November TBHMManiacs!!!
TBHM: We honor our veterans!
Tees
TBHMManiacs Tees: Limited print via Teespring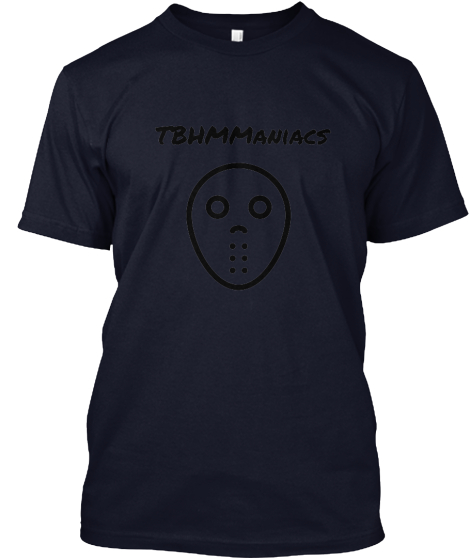 Click on shirt to purchase!
Links Contact Us Frequently Asked Questions
Terms & Conditions Privacy Policy Home
Copyright © 2006 - 2018 TBHM. ALL RIGHTS RESERVED