How do you take your Horror?
Bloody, Ghostly, Scary as Hell or kinda ghastly...?
TheBestHorrorMovies.com (TBHM) is dedicated to horror movie fanatics everywhere that we affectionately nickname TBHMManiacs. We focus on reviewing and recommending the Best of The Three Levels of Horror which are-- Dark Comedy, Slasher, and Supernatural movies. We celebrate both the horror movie heroes and villains (We have our reasons). We strive to introduce each year our wildest selection of Horror movie hotties and hunks (We assure you, our picks are cleverly enticing with your votes of course). We extend our love to our unique scary movie writers and directors by featuring one of our mutual favorites in our Horror giant section annually. We accept your votes to create our yearly top rated lists. TBHM is here to support the greatest horror films by reviewing and recommending them to you via curated lists on our site. We have plenty of juicy Horror topics that we update somewhat weekly (AD military) such as WTF Horror Moments and Dare you to watch. Check us out and Spread your Horror!
MAJOR SPOILER ALERT!!!
Title: Mad Dogs (S1,E1)
"Pilot"
This show is a ten episode one season crime, drugs, sex and questionable friendships infested storyline. The narratives for each of the five friends are as compelling as their personalities. They each bring something strangely beautiful to the screen. Sex appeal and complex personalities. Yes five middle aged men from Chicago no less. They are childhood friends who grew up to lead very distant and different lives. Joel, Lex, Cobi and Gus are invited by their friend Milo, played by Billy Zane, to his retirement weekend adventure in his palatial abode in Belize. Who would pass this up? Belize? Exotic tropical island in Central America. Well, not them as they all showed up and went through hell and back to get out of beautiful yet smothering Belize. I stumbled upon the series one Friday night and finished episode 10 the following night on Saint Patty's day. What can I say? I was glued to my chair, the show was so captivating and addictive that I had to know what would become of them. I was invested in the characters, the plot and the location. As a result, I highly recommend this show as it is not pure horror but deals closely with subthemes of the supernatural and gore.
Nevertheless, there were so many WTF moments in the first episode alone that I had to add some on here. Please see below...
The most WTF moment in the first episode is:
Milo is shot dead by a midget wearing a cat mask while dropping the truth bomb on all of his friends!
The scariest movie of April 2018
A Quiet Place (6 April 2018)
Director: John Krasinski
Writers: John Krasinski, Scott Beck, Bryan Woods
Starring: John Krasinski, Emily Blunt
Synopsis: This real life couple pairs up to greet the silver screen with some of the best performances as of yet. They are stunningly gripping. The children played by Millicent Simmonds, Noah Jupe and Cade Woodward are exquisite as well in their roles. Each camera angle, each little movement, each sound just sends waves of involuntary emotions throughout. We do not know what to fear yet in the first scene but we can sense something otherworldly indeed will cause many shrieks. This is a superb movie that sends a powerful message - Even if it's the end of the world as we know it, parents have the obligation to care for their children and to fight for their survival.
"Pure Mindf*ck"
Happy May TBHMManiacs!!!
TBHM TIP #2: Don't forget to say Happy Mother's day!
Tees
TBHMManiacs Tees: Limited print via Teespring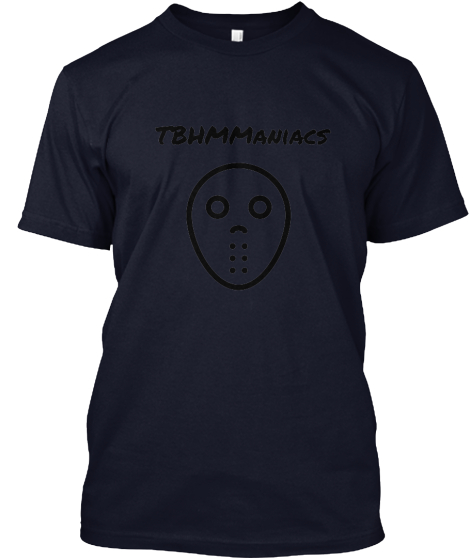 Click on shirt to purchase!
Links Contact Us Frequently Asked Questions
Terms & Conditions Privacy Policy Home
Copyright © 2006 - 2018 TBHM. ALL RIGHTS RESERVED