How do you take your Horror?
Bloody, Ghostly, Scary as Hell or kinda ghastly...?
TheBestHorrorMovies.com (TBHM) is dedicated to horror movie fanatics everywhere that we affectionately nickname TBHMManiacs. We focus on reviewing and recommending the Best of The Three Levels of Horror which are-- Dark Comedy, Slasher, and Supernatural movies. We celebrate both the horror movie heroes and villains (We have our reasons). We strive to introduce each year our wildest selection of Horror movie hotties and hunks (We assure you, our picks are cleverly enticing with your votes of course). We extend our love to our unique scary movie writers and directors by featuring one of our mutual favorites in our Horror giant section annually. We accept your votes to create our yearly top rated lists. TBHM is here to support the greatest horror films by reviewing and recommending them to you via curated lists on our site. We have plenty of juicy Horror topics that we update somewhat weekly (AD military) such as WTF Horror Moments and Dare you to watch. Check us out and Spread your Horror!
MAJOR SPOILER ALERT!!!
Title: Preacher
"Damsels - Season 2 EP 3"
Preacher is one of those shows you find yourself so addicted to the point of binging 2 seasons in a row when you finally stumbled upon it and ask yourself "where was this show all your life?"...like it was a missing piece. Yes true story. Last year, I persuaded a friend of mine to watch season 1 and 2 with me, we finished it in less than two weeks. When it was over, we could not wait for season 3 to be available. Alas, a year later, we gorged on Preacher like it's our last supper. There are many reasons why I am in total awe with Preacher such as, the main characters are so well developed and so badass, the context is so taboo that there was a petition out to get the show cancelled, the supporting characters are surprisingly compelling, the storyline is so over the top, so controversial yet fan-worthy, I could go on for a while. Anyway, the main reason I obsess over this show is that it pushes the audience to feel a rollercoaster of emotions with every scene. Originality and creativity are abundantly present as well as WTF moments. The WTF scene that I want to share with you today is from "Damsels".
Looking for God in all the wrong places?
You just might find Him or...!
(Photo property of AMC)
The most suspenseful horror movie of September 2018
Hell Fest (28 September 2018)
Director: Gregory Plotkin
Writers: Chris Sey, Seth M. Sherwood
Starring: Bex Taylor-Klaus, Amy Forsyth
Synopsis: On a Halloween night, all scares are welcomed in a theme park outfitted to serve up fake bloody kills. But an unhinged killer is on the loose at the park. How long will it take everyone to suspect something is wrong? I could not help to think this premise is a brainchild of Westworld meets Scream.
"Scary as hell"
Happy October TBHMManiacs!!!
TBHM: Is it that time again?
Tees
TBHMManiacs Tees: Limited print via Teespring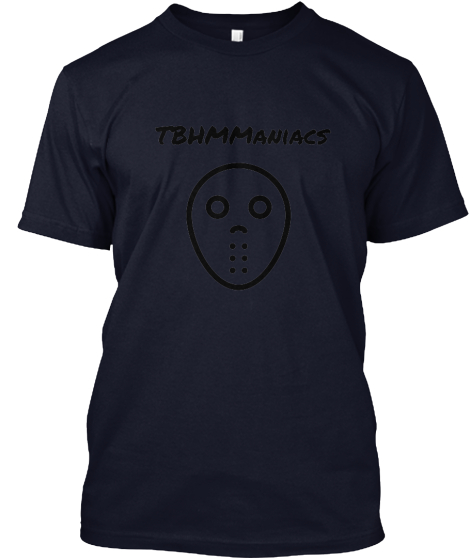 Click on shirt to purchase!
Links Contact Us Frequently Asked Questions
Terms & Conditions Privacy Policy Home
Copyright © 2006 - 2018 TBHM. ALL RIGHTS RESERVED