April-Lynn "April" Miguel was born on a sinister afternoon on April 1, 1993 in the Miguels' Mansion with the help of their private doctor, Dr. Bezeus. Her demented parents, Ymora and Joseph Miguel, decided that they would let little April cry her eyes out before cleaning and consoling her; April fell asleep her first night in existence, dirty, cold, hungry, and scared. Any sane parent would have never allowed for their newborn to endure such cruelty but for some dark reason, the Miguels were overjoyed by that brutal display of child neglect.
Being their only child, April inherited their abundant fortune as she grew up quickly into a beautiful young woman with rather peculiar behavioral habits among her peers at Jean-Thoby's private school. For instance, she was seldom absent from school on her birthday if that day was on a school day, she preferred to take a rain-check on gifts or surprise birthday parties, as her birthday was approaching, April would always look depressed and hurt. After her parents' 'accidental' demise, people felt it was more than normal for her to behave in this manner since they died on her birthday but it would never cross their mind that April was the subject of pure atrocities foisted by none other than her cult-crazed parents on every birthday she has ever had when they were animated.
This time around, the Miguels had planned to pull their most elaborate prank ever, since it was going to be her 13th birthday and they had an affinity for the number "13". The Miguels were actually going to throw a well-orchestrated party, sadly not a birthday party, more like an April Fool's Party a la Halloween. April had her plans laid out also, they had been doing this to her for 13 years and now it was time for them to atone for their deliberate abuse year after year. Simple as that, April could no longer stomach or get lured to be treated like their special 'little freak'...
Tees
TBHMManiacs Tees: Limited print via Teespring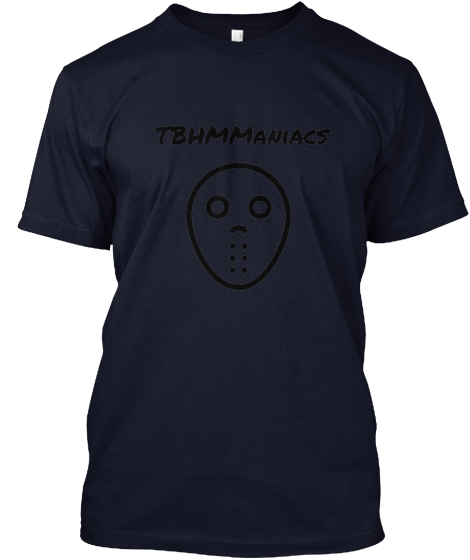 Click on shirt to purchase!
Happy SEPTEMBER TBHMManiacs!!!
TBHMManiacs, We want you!
TBHM Tip #13: Death is the shadow of creation, one cannot exist without the other!
Most Anticipated of AUGUST
Scary stories to tell in the dark: 9 August 2019
Most Anticipated of JULY
Midsommar: 3 July 2019
Crawl: 12 July 2019
The Field Guide to Evil: 26 July 2019
Most Anticipated of JUNE
The Child Remains: 7 June 2019
Head Count: 14 June 2019
The Dead don't die: 14 June 2019
Nightmare Cinema: 21 June 2019
Child's Play: 21 June 2019
Grudge: 21 June 2019
Annabelle comes Home: 26 June 2019
47 Meters Down: Uncaged: 28 June 2019
Play or Die: TBD
Most Anticipated of MAY
Perfect: 17 May 2019
The Lighthouse: 19 May 2019
Brightburn: 24 May 2019
Ma: 31 May 2019
Copyright © 2006-2019 TBHM. ALL RIGHTS RESERVED