Most Terrifying of 2019
Which one is your favorite horror movie of 2019?
2019 is promised to be a juicy year with some of the most demented remakes, compelling originals, and suspenseful sequels. Below is TBHM's horror movie poll for 2019. We want you to pick your favorite horror movie out this year and you never know maybe your pick will make the top 9 list as we will watch every single one of them to ensure they are worthy!
The best horror movie of January 2019
Velvet Buzzsaw (31 January 2019)
Director: Dan Gilroy
Writer: Dan Gilroy
Starring: Jake Gyllenhaal, Rene Russo, Toni Collette
Synopsis: Velvet Buzzsaw is a collage of the greatest actors and actresses in the movie industry who portray some of the most ambiguous characters afflicted with greed, ambition, and lovelessness. This premise is an expose on the human condition. It follows Josephina who works for Rhodora Haze at her art gallery. Josephina stumbles upon an art cache of hundreds of art pieces from a peculiar dead old man's apartment. Rhodora offers to exhibit the paintings at her gallery which instantly incited buzz from everyone; even from Morf played by Jake who is one of the most prestigious and influencing art critic in Los Angeles. All parties involved could have accumulated wealth beyond Jeff Bezos with the sales. However, this kind of art has its own voice, it is thirsting to be heard and it wants to consume you.
"Art Darko is so in!"
"The Hoboman can't save you!"
"Thou art what thou crave"
"They see right through your souls"
"Velvet Buzzsaw will saw right through you"
The best horror movie of February 2019
The Prodigy (8 February 2019)
Director: Nicholas McCarthy
Writer: Jeff Buhler
Starring: Taylor Schilling, Colm Feore, Jackson Robert Scott, Peter Mooney
Synopsis: I was reluctant to go watch The Prodigy with Steve Pearson (Sounds like a super hero, I can tell you he is my joker) because it gave me a feel of Case 39 and I did not want to step on my soulmate's affinity for unhappy endings (All are welcome in my book). Alas, I was in the mood for a big bad scare and let me tell you, The Prodigy did just that. They pushed the envelop with this child actor as Miles portrayed a perverse little creep so well. Miles was born on the same night, a serial women killer was shot dead. Miles grows up to be talented beyond his years with a side of sinister. I went with my bf to watch the movie when it first came out, he liked it, I was iffy and bewildered by this trope. Overall, the characters were well developed and Jackson is simply exquisite in every scene. The premise explores a different angle in outer, and inner body experiences. Don't expect any happy endings.
"Miles!"
"He doesn't feel much like himself!"
"He is simply not himself"
"The Prodigy is skin deep creepy"
The best horror movie of March 2019
Us (22 March 2019)
Director: Jordan Peele
Writer: Jordan Peele
Starring: Lupita Nyong'o, Winston Duke, Anna Diop, Elizabeth Moss
Synopsis: A family of four decides to take a vacation in Santa Cruz to get away from their hectic lifestyle. With relaxation in mind, they set out to have a dope time starting with a "dope" song. The Wilsons could have never predicted what nightmare was going to befall them. It's one of those movies that keeps you on edge through its entirety. It is the scariest movie of 2019 thus far, with a message so profound if you blank you might miss it as there are subtle hints throughout. This Jordan Peele cinematic experience was influenced by 7 spectacular movies and you will get the feels while watching "Us". A must see!
"A rap song could never be so eerie; then again it's a Jordan Peele film!"
Tees
TBHMManiacs Tees: Limited print via Teespring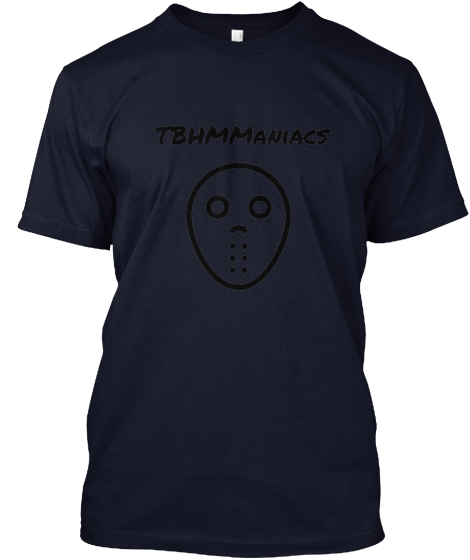 Click on shirt to purchase!
Happy May TBHMManiacs!!!
TBHMManiacs, We want you!
TBHM Tip #11: It's easier sometimes to go to Ma when you wanna party like a "rockstar"!
Most TBHM Anticipated of May
The Lighthouse: 19 May 2019
Brightburn: 24 May 2019
Ma: 31 May 2019
Copyright © 2006-2019 TBHM. ALL RIGHTS RESERVED