TBHM Hunks of 2011
For our TBHM fans, this year was definitely a wild one with these new and veteran horror movie actors popping up and flexing their best parts all over the big screens. We have counted them down for you every month and the horror movie hunk of the year is finally revealed below. Enjoy and spread it!
TBHM Hunk of Year 2011
Who: Daniel Craig from "Cowboys and Aliens" and "The Dream House" is our horror movie hunk for the year 2011. Craig was born in Chester by Carol and Timothy Craig and has an older sister named Lea. He is of Welsch descent, has a daughter named Ella with his first wife and is currently married to fellow English actor Rachel Weizs. Craig has played in countless movies since 1992 and portrayed both bad and good guys impeccably. He is a very talented actor and won multiple awards for his performances. He is a recluse, we never hear much about his personal life as he keeps that under wraps. He also despises people who sells off their own privacy only to turn around and demand exactly that as he spoke out against the Kardashians.
Why: Daniel was voted hunk of the year by fans among 11 other hunkalicious actors. We have seen him sinking his teeth in two major horror production this year. He did a great job with both, hail to our horror hunk of 2011! Stay abdoliciously Victorious!
Born: Daniel Wroughton Craig, on 2 March 1968, in Chester, Cheshire, England
Who: Brandon Stumpf playing detective Graves from the upcoming Sci-Fi thriller The final Shift is our horror movie hunk for this month. He thought about a career in acting after several friends and family advised him to pursue modeling. But Brandon finally decided on a career in modeling and later acting after his little brother moved to the big Apple to chase after his own modeling dream. Since Brandon has appeared in multiple major box office films such as 27 Dresses and Ghosts of Girlfriends' Past, he has also been featured in numerous horror films among them Kevin Macdonald's 2010 Horror thriller Beg. Brandon is highly versatile as he portrays badasses, good guys and average joes in the roles that he takes on, also watch out for him gracing the cover of The Lawson Vampire Series as The Fixer from Jon F. Merz. He is an actor, model, teacher, martial artist, husband and father of two beautiful girls. Is there something, he can't do? My guess is no, he has brains and he has these ever so penetrating eyes, he is so hunkalicious!
Why: He is a multi-talent waiting to be discovered and used to the fullest of his capacity.
Born: Brandon S. Stumpf on June 23, 1976 in Nashua, NH
Who: Cuyle Carvin from the apocalyptic sci-fi thriller Terminal Legacy due to be released in January 2012 is our horror movie hunk for this month. Cuyle has performed in over forty film and television projects since he first debuted in 2004 among them are Law and Order: SVU, All My Children, One Life to Live, Person of Interest, Fog Warning, Alien Opponent and Assault of the Sasquatch. Cuyle is not just a cute face and a hot abdolicious hunk, he also has a caring and generous heart as he starred in a self-titled coloring book to educate and positively influence kids in health and in life choices; he is a great contributor to countless charities supporting and promoting kids' health.
Why: He may look like fresh meat, Cuyle has actually been in the industry longer than most Hollyhood stars, he may be an underdog now, but we must be reminded that every dog has its day.
Born: Cuyle William Carvin, on 3 December 1980, in Oneonta, NY
TBHM Hunk of October 2011
Who: Eric Christian Olsen from the alien prequel "The Thing" is our horror movie hunk for this month. Eric is the funny guy that we should have seen a lot more of on screen but you can definitely see a lot of him on Will Ferrell's "FunnyorDie" website, he is so hilarious. Eric was born in Oregon but spent most of his teenage years in Iowa. In high school, he excelled in sports and Japanese. Eric left his hometown for California in the late 1990s after many successful local theatre performances with only $500 to his name. Within weeks, he landed a guest role in "High Incident" and later he played the gunner for Ben Affleck's character in "Pearl Harbor" but the role that placed him on the map as a true comedian was in "Not another teen movie" playing a cocky blond guy. After which, he scored several roles in comedy, drama and horror films. He is currently playing Detective Marty Deeks on NCIS: Los Angeles.
Why: He is so underrated, Eric has the caliber to play opposite Jim Carey or Al Pacino in any movie.
Born: Eric Christian Olsen, on 31 May 1977, in Eugene, Oregon
TBHM Hunk of September 2011
Who: James Marsden from the psychological thriller remake "Straw Dogs" is our horror movie hunk for this month. James has four siblings and two children with wife Lisa Linde whom recently filed for divorce. James began studying Broadcast Journalism at the Oklahoma State University but discontinued after nearly 18 months to pursue his acting career in Los Angeles. He started his career in films and television since 1993 but scored his breakthrough roles in 2000 with such films as t"he X-Men series" playing Cyclops, "Superman Returns", "The Notebook", "The Box" and my favorite one "Enchanted" most recently. For some reason, in the first three films I cited, James played the ever-so-nice boyfriend who could never win the girl at the end of the day. I guess that got me more interested in him.
Why: He is a very talented gorgeous actor with a great sense of humor.
Born: James Paul Marsden, on 18 September 1973, in Stillwater, Oklahoma
TBHM HUNK OF AUGUST 2011
Who: Colin Farrel from the remake "Fright Night" is our horror movie hunk for this month. Colin Farrel was born in Dublin by Rita, a housewife, and Eamon, a football player. Colin has two sisters and a brother and was raised catholic. Colin started his acting debut on the Danny Byrne BBC show "BallyKissAngel" in 1998, that same year, he starred in Tim Roth's "The War Zone" but his leading role in Joel Shumacher's "Tigerland" was his breakthrough into the movie industry and from there he was scoring roles after roles in major Hollywood pictures. Colin has played in over thirty movies to date but he has a flair for portraying bad guys...and for some odd reason, we, the fan, expect him to be a badass in almost all of his roles as he does them so effortlessly. Colin has been married twice and has two sons and the oldest suffers from Angelman syndrome. Colin has had his fair share of scandals, he had to file a lawsuit against a former playboy model girlfriend, Nicole Narrain, for leaking out a personal sex tape to the tabloids. Colin has presumably propositioned sex to Dame Eileen Atkins whom was 42 years her senior at the time for which she turned him down. Colin was also a dear friend to the late Elizabeth Taylor which he attended her funeral ceremony where he recited "The Leaden Echo and The Golden Echo" poem as she had requested.
Why: Colin is this badass that no good girl will ever bring to their parents but he is so good at being one that these good girls will miss confessions to be with him.
Born: Colin James Farrel, on 31 May 1976, in Dublin, Ireland
TBHM HUNK OF JULY 2011
Who: Daniel Craig from "Cowboys and Aliens" is our horror movie hunk for this month. Craig was born in Chester by Carol and Timothy Craig and has an older sister named Lea. He is of Welsch descent, has a daughter named Ella with his first wife and is currently married to fellow English actor Rachel Weizs. Craig has played in countless movies since 1992 and portrayed both bad and good guys impeccably. He is a very talented actor and won multiple awards for his performances.
Why: Daniel is known to be one of the best portrayal of Agent 007, he was born to be a hot agent.
Born: Daniel Wroughton Craig, on 2 March 1968, in Chester, Cheshire, England
TBHM HUNK OF JUNE 2011
Who: Thomas Ian Nicholas from "Fading of the cries" is our horror movie hunk for the month of June. Thomas has six siblings and he is partly Italian from his paternal side. Thomas was born in Las Vegas and began a career in acting at the tender age of six appearing in television shows like "Who's the Boss", "Baywatch", and "Grey's Anatomy" among others, he also plays Kevin Myers in the vastly popular American Pie film series, he also starred in "Rookie of the year", "Halloween: Resurrection" to cite only a few. Thomas is a musician, actor, writer, producer and singer.
Why: Thomas is down to earth, funny, talented and breathtakingly handsome.
Born: Thomas Ian Nicholas, on 10 July 1980, in Las Vegas, Nevada
TBHM HUNK OF MAY 2011
Who: Paul Bettany, from the religious vampire thriller "Priest" out in theaters this month, is the horror movie hunk for the month of May. Paul portrays different characters in every roles he take on. He plays a character from a book in "Inkheart", a fallen angel in "Legion", a warrior priest in his latest film titled "Priest". Paul also played an imaginary character in "A beautiful mind" where he met his future wife, Jennifer Connelly and married her thereafter.
Scoop: He earned money playing his guitar in the streets as a Busker before he got famous.
Why: Paul is very passionate and very talented, whatever movie his name is stapled to, he reinvents it and make it his own.
Born: Paul Bettany in Shepherd's Bush, London on May 27, 1971.
TBHM HUNK OF APRIL 2011
Who: Brandon Routh starring in the hit comic series adaptation of "Dylan Dog" is the horror movie hunk for the month of April. Brandon has moved to New York from Iowa in 1999 to pursue a career in acting, he started on the Soap "One life to live" in the early 2000s and played in numerous television shows until he scored the role of Clark Kent in Superman Returns. Since 2006, he has been in several movies but I particularly liked his character in "Zack and Miri make a porno". A little background, his parents are Katie and Ron Routh, he has a sister named Sara, who is a musician and has a track on the Superman Returns soundtrack. Our hottie is of French, German, American Indian and English ancestry.
Scoop: Unfortunately for us and fortunately for his wife; Brandon was married to his girlfriend of three years, Courtney Ford, on November 24, 2007.
Why: Brandon has this Superman suave about him, he can save the day and still manage to be down to Earth.
Born: Brandon James Routh, on October 9, 1979, in Des Moines, Iowa
TBHM HUNK of March 2011
Who: Billy Burke from "Red Riding Hood" out in theaters this month, is the Horror Movie Hunk for this month. He is one of the famous faces on the online poker website Hollywood Poker. He starred in countless films and television series since 1990.
Why: Billy Burke plays Bella Swan's father on the "Twilight Series". He Plays Charlie Swan so well but he is so attractive and so unassuming, I would want him to be more than daddy to me for the record.
Born: William Albert Burke, on November 25, 1966, Bellingham, Washington
TBHM Hunk of February 2011
Who: Matt Lanter from "The Roommate" is our horror movie hunk for this month. Matt is fairly new in the movie industry as he was one of the contestant from the 2004 Bravo's reality show, "Manhunt: the search for America's Most Gorgeous Male Model" which he did not win but successfully auditionned and scored roles in series such as "Point Pleasant", "Big Love", "Heroes" among others and now he is a regular on "90210" and stars in various spoof movies such as "Vampires suck" and "Disaster Movie".
Why: Matt is just very sarcasticly funny and gorgeous. Matt was a batboy for Atlanta's Braves, he attended University of Georgia where he majored in Sports Business.
Born: Matthew Mackendree Lanter, on April 1, 1983, in Massillon, Ohio
TBHM Hunk of January 2011
Who: Jesse Williams from "The Cabin in the Woods" out in theaters January 14, 2011. Jesse is of Sweddish and African ancestry and is an American actor and model.
Scoop: He was a teacher in real life as he taught African and American Studies and English in a Philadelphia High School.
Why: Jesse first caught my eyes in "Brooklyn's Finest" where he played the partner to Richard Gere's character and now he is playing the leading role in the horror thriller "The Cabin in the Woods" with the tagline "If you hear a strange sound outside...have sex." got to make you wonder what else will be happening in this premise. Jesse is also starring in the ABC hit show "Grey's Anatomy" as Doctor Jackson Avery.
Born: Jesse Williams on August 5, 1985, in Chicago, Illinois
TBHM says: "He can be my teacher and doctor anytime!"
These sizzled men below were our hot picks for 2010...you may devour them with your eyes now.
TBHM HUNK of December 2010
Who: Vincent Cassel is the Horror Movie Hunk for this month. He is one of the stars of the new psychological Horror movie Black Swan out in theaters December 2010, also starring the two equally beautiful and talented Mila Kunis and Natalie Portman. Vincent is the son of Journalist Sabine Litique and actor Jean-Pierre Cassel born Crochon. Vincent has played in over 50 films worldwide since 1993. I started paying more attention to him for his role in the controversial film "Irreversible" in 2002 where he played Marcus the boyfriend character to Monica Belluci's character. Cassel and Belluci met on the set of the feature film and got married shortly after with two beautiful girls Deva, 6 years old and Leonie, 7 months old to call their own. Cassel could also be a linguist if he wanted a career change as he speaks fluently not only his native tongue French, but also Russian, Portuguese, English and Italian. Cassel is fit, gorgeous and so charismatic.
Scoop: As a couple Vincent and Monica were approached to star in an adult film together, they declined the offer since they were not sure if their fans would brand them as porn stars instead of actors.
Why: Vincent has that bad ass flare to him that when he plays a good guy we still crave him as a bad ass. His so ever-penetrating blue eyes seal the deal for me...
Born: Vincent Crochon, on November 23, 1966 in Paris, France
"Vincent est si beau...oh la la!"
TBHM HUNK of November 2010
Who: Eric Balfour is the Horror Movie Hunk for this month. He is one of the stars of the new Sci-Fi Horror movie Skyline. Eric is the son of Sharon and David Balfour and has a younger sister named Tori. Eric's complex beauty comes from his Russian, French and Native American roots. Eric has played in countless TV shows and films. His face was used in "Texas Chainsaw Massacre" as a lure for Leatherface to get under the skin of Eric's character's girlfriend played by Jessica Biel. Eric is also a singer, he is the lead vocalist for the band "Born as Ghosts". He is currently playing Duke Crocker "the Colorado Kid" in the Supernatural Series "Haven" based off Stephen King's Novel.
Why: Eric has a face that most men would want to rip off and use as their own. He is simply intoxicatingly gorgeous!
Born: Eric Salter Balfour, on April 24, 1977 in Los Angeles, California
"Such dirty thoughts coming to mind..."
TBHM HUNK of October 2010
"What would you give to be that bag of ice?"
Who: Sean Patrick Flanery is the horror movie hunk for this month. I know I am not the only one who enjoys watching him playing Connor Mcmanus in "The Boondocks Saints". Sean is getting recognized as the Horror Movie Hunk of this month for his supporting role in SAW 3D and for blessing the screens with his gorgeous smile in every films. Sean is one of those guys who would join a class or a club for a girl. As he did enroll in an acting class because he had a crush on a girl whom was attending that class. Eventually he fell in love with acting instead. Thereafter, he moved to Los Angeles to pursue a career in acting and he has been actively performing in over 50 films since 1988. Sean is also very athletic, he has a black belt in Brazilian Jiu Jitsu and he races car professionally. He also own a dog that he named Donut because of the dog first reaction to donuts.
Why: Sean is just simply irresistible. He is ageless!
Born: Sean Patrick Flanery, on October 11, 1965 in Lake Charles, Louisiana.
"So tempting!"
Who: Boris Kodjoe from Resident Evil: Afterlife is the horror movie hunk for September. Boris is of Ghanaian and German roots who used to be a fashion model, now mostly work as an actor. He is married to Soul Food co-star Nicole Ari in May 2005 with whom he has two youngsters.
Why: Boris can play a friend, a boyfriend, a husband, a survivalist, a FBI agent or just the guy sporting these six packs and I would still be a groupie. He is just mesmerizing!
Born: Boris Frederic Cecil Tay-Natey Ofuatey-Kodjoe , on, , on ,
On March 8, 1973 in Vienna, Austria
"Makes you wanna take your underwear off"
TBHM HUNK of August 2010
Who: Brian Geraghty from "Open House" is the horror movie hunk for August. Brian caught my eye from his performance in "The Hurt Locker" with me being a veteran and all, it touched home. But Brian has played a marine in Jarhead, so he definitely is hot in my book. I just can't resist men in uniforms.
Why: Brian can play the innocent boyfriend next door, the closeted freak and the EOD specialist and still find him convincing in each roles. He's very versatile!
Born: Brian Timothy Geraghty, on May 13, 1974, in Toms River, New Jersey
"I can't resist a man in uniform...can you?"
TBHM HUNK of July 2010
Who: Travis Fimmel from The Experiment is the horror movie hunk for July. Travis is an Australian actor and model. He began modelling at 18 and became one of the highest paid model representing Calvin Klein exclusively. He has played in a handful of thrillers including "Ivory" and "Needle".
Why: Travis is one of the most gorgeous, abdolicious men in the movie industry. He can be a badass or a good guy, it's totally up to you who you want him to be.
Born: Travis Fimmel, on July 15, 1979 near Echura, Victoria in Australia
"Muy caliente"
TBHM HUNK of June 2010
"Such hotness"
Who: Adrian Brody from Splice and The Experiment is our horror movie hunk for June. Adrian has Hungarian, Polish and Jewish blood running through his veins. He has a very broad talent as he can portray almost anybody on screen. As brilliant as he is earned him an Academy Award for best Actor in "The Pianist" when he was only 29 years old making him the youngest male actor to win in that category.
Scoop: Adrian had a near fatal motorcycle accident where he took him months to recover. His nose is also proned to being broken as he broke it four times doing his own stunts.
Why: Adrian has this sexyness about him. He also shows some guts by kissing Halle Berry at an award ceremony. He just makes you melt in places you never thought you could.
Born: Adrian Brody, on April 14, 1973 in Woodhaven, Queens, NY
"Now I see why Halle Berry couldn't resist from his kissable lips"
"The modern gentleman!"
Who: Jim Sturgess from Heartless is the horror movie hunk for the month of May. Jim is your gentleman if you know one. He is an English actor and musician. First look was from "Accross the Universe" and since then I fell in love or maybe in lust.
Why: I am just smitten with him. I cannot help myself, he just makes women want to lose themselves in his eyes.
Born: James Anthony Sturgess, on May 16, 1981 in London, England
TBHM HUNK of April 2010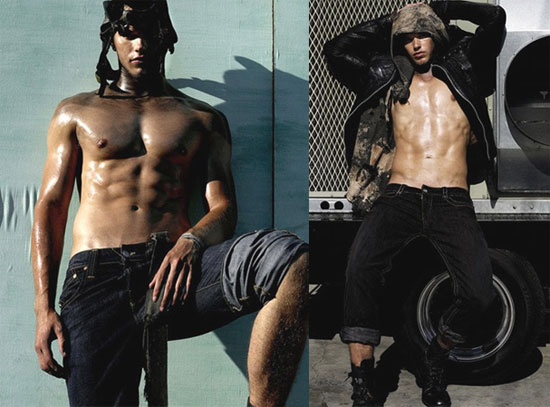 Who: Kellan Lutz from A Nightmare on Elm Street is the horror movie hunk for April. Kellan is mostly known for playing Emmett Cullen in the Twilight films but we can deny this hotness a spot on our list? He has a handful of movies under his belt and some more to come. He is a star in the making.
Why: Kellan is just irresistible to look at even when he is playing the bad guy.
Born: Kellan Christopher Lutz, on March 15, 1985, in Dickinson, North Dakota
"So gorgeously sexy!"
TBHM HUNK of March 2010
Who: Jude Law is the horror movie hunk for this month. Mr. Law played in movies such as "The Talented Mr. Ripley", "Gattaca", "Road To Perdition", "Midnight in the Garden of Good and Evil", "Immortality", "Artificial Intelligence: AI" to cite only a few. He is a very broad actor, who can play good, eccentric, complex, or dark roles without a sweat. He is recently starring in "The Repo Men" now playing in theaters. Jude Law has four biological children and one stepson, three with ex-wife Sadie Frost, and one with US model Samantha Burke. He is a very charitable and peaceful human being, he donates and he is actively involved with a number of charities and he also partakes in various peacekeeping activities. Mr. Law has received numerous award nominations, and won several. He is the younger brother to Andrea Natasha Law, the celebrated graphic designer and English painter.
Why: Mr. Law is handsome inside and out, although, he may not be able to keep it in his pants which is fine by me, but he dedicates his life for the greater good in mankind. What an awesome man!
Born: David Jude Heyworth Law, in Lewisham, London, England, on December 29, 1972
"So piercing"
TBHM HUNK of February 2010
"Tim can arrest me anytime (Justified)...rawrr!"
Who: Timothy Olyphant from the pandemic movie The Crazies is the horror movie hunk for this month because he has personafied hotness to me. I love his country look and voice but foremost I love his walk and attitude. I love so many other things about him, but I don't think I will have enough time to write them right now, I think I will have a page for him especially. Nonetheless, Timothy was born in Hawaii but raised in California, he went to Fred C. Beyer high school in Modesto before pursuing a degree in fine art and theater at University of Southern California where he was also a very good swimmer as he swimmed competitively and became one of the finalists at the U.S. National Swimming Championships in the 200 individual Medley. Upon being dropped, Timothy moved to NYC where he attended William Esper's acting studio. Believe it or not, he's been married for nearly twenty years to wife Alexis Knief with whom he has three children.
Why: Timothy Olyphant has played such badasses throughout his career that I just always expect him to be one. One word "Hitman"!
Born: Timothy David Olyphant on May 20, 1968, in Honolulu, Hawaii.
"Such a hottie"
TBHM HUNK of January 2010
Who: Ethan Hawke from the vampire movie Daybreakers is our horror movie hunk for the month of January. He was married to actress Uma Thurman for nearly seven years and divorced on accounts of Hawke being unfaithful. He has three children two with former wife Uma and one child with current wife Ryan Shawhughes. He starred in countless movies and theater productions and received numerous award nominations for his work, he is truly a very talented actor, writer and director with over two decades of stage and screen work.
Why: Ethan Hawke is one of the most classical good looking actors in Hollywood, as time goes by, he is only looking better. He plays good guy, villain, boyfriend material, husband, guy on the side, badass and still keeps me on his good side. I think his beauty and charm are timeless.
Born: Ethan Green Hawke, on November 6, 1970 in Austin, Texas.
"The hottest facial features ever!"
Our readers are voting, their sexiest horror movie hunks are being picked, so the question remains who's yours? Who is your horror movie hunk?
To see our Horror Movie Hunks from the past click on the link below
| | |
| --- | --- |
| Name: | Jessica |
| E-mail: | @hotmail.com |
| Who is your favorite horror movie honk of all times?: | Other? |
| Other: | Jensen Ackles |
| Why do you think he is so hot?: | He has a look of innocence and charm that makes my heart melt over and over again.. |
| | |
| --- | --- |
| Name: | Jennie |
| E-mail: | @yahoo.com |
| Who is your favorite horror movie honk of all times?: | Christian Bale (The Machinist, American Psycho, the Prestige) |
| Other: | Other |
| Why do you think he is so hot?: | He is so hot because he can play sexy and scrunny in different features and still remain a hottie to me. Those six packs from American Psycho can talk for themselves if you don't want take my word for it! |
| | |
| --- | --- |
| Name | Roxanne |
| Email | @yahoo.com |
| Who is your favorite horror movie honk of all times? | Ryan Reynolds (The Amityville Horror, Blade: Trinity) |
| Other | |
| Why do you think he is so hot? | Canadian breed! He still remains a multi-talented honk, who knows how to scare people with movies like Amityville horror and make you want to cry laughing so hard with movies like National Lampoon movie Van Wilder. He is the ultimate horror movie hot guy because sometimes you need both sides of the coin. |
| | |
| --- | --- |
| Name: | Alyssa |
| E-mail: | @yahoo.com |
| Who is your favorite horror movie honk of all times?: | Other? |
| Other: | Jared Tristan Padalecki |
| Why do you think he is so hot?: | Well look at him for starters, been in 2 Horror Movies already Cry Wolf and House of Wax. He is also taking the lead role in the upcoming Friday the 13th film to be released Feb. 09. |
| | |
| --- | --- |
| Name: | Marisa |
| E-mail: | @yahoo.com |
| Who is your favorite horror movie honk of all times?: | Kevin Bacon (Stir of Echoes) |
| Other: | Other |
| Why do you think he is so hot?: | Kevin is just ageless, so unbelievebly sexy. A smile that just undresses me, Kevin has six degrees of attractiveness, more like 10 degrees, to me anyway! |
| | |
| --- | --- |
| Name: | Victoria |
| E-mail: | @yahoo.com |
| Who is your favorite horror movie honk of all times?: | Matthew McConaughey (The Texas Chainsaw Massacre: The Next Generation, Frailty) |
| Other: | Other |
| Why do you think he is so hot?: | i just LOVE him. there hasnt been a movie yet where he doesnt end up shirtless. i love his body..mmm |
| | |
| --- | --- |
| Name: | Kyl |
| E-mail: | @yahoo.com |
| Who is your favorite horror movie honk of all times?: | Other? |
| Other: | Todd Shaffer - Friday the 13th 8 |
| Why do you think he is so hot?: | I could play with him all day and night over and over and... |
The Best Horror Movie Hunk
Who makes you lick your lips, since you're drooling all over?!
Spread it!
To see our Horror Movie Hunks from the past click on the link below
Links Contact Us Frequently Asked Questions
Terms & Conditions Privacy Policy Home