How do you take your Horror?
Bloody, Ghostly, Scary as Hell or kinda ghastly...?
TheBestHorrorMovies.com (TBHM) is dedicated to horror movie fanatics everywhere that we affectionately nickname TBHMManiacs. We focus on reviewing and recommending the Best of The Three Levels of Horror which are-- Dark Comedy, Slasher, and Supernatural movies. We celebrate both the horror movie heroes and villains (We have our reasons). We strive to introduce each year our wildest selection of Horror movie hotties and hunks (We assure you, our picks are cleverly enticing with your votes of course). We extend our love to our unique scary movie writers and directors by featuring one of our mutual favorites in our Horror giant section annually. We accept your votes to create our yearly top rated lists. TBHM is here to support the greatest horror films by reviewing and recommending them to you via curated lists on our site. We have plenty of juicy Horror topics that we update somewhat weekly (AD military) such as WTF Horror Moments and Dare you to watch. Check us out and Spread your Horror!
MAJOR SPOILER ALERT!!!
Title: Mother (2017)
"Seeing is believing"
Writer: Darren Aronofsky
Director: Darren Aronofsky
Actors: Jennifer Lawrence, Javier Bardem, Michelle Pfeiffer, Ed Harris
Mother! is one of those movies that will twist your world sideways. I had preconceived ideas before watching this film. However, during the watch, it was nothing I had ever expected. I was rendered mind-fucked in a good way! After the writer/director confirmed his storyline, there were some people still interpreting it as they felt because this premise is uber ambiguous. Mother! is a cautionary and reflective tale about mother nature. She gives her heart, her all, yet it is never enough; they devour her flesh and blood. Moreover, they ravenously eat, destroy, tarnish, and take, take, take ever so selfishly. What makes Mother! different than most big budget films, is that the WTF moments were abundantly supplied. Although, this movie was purely an allegory of the bible, it was grossly old testament style. A parable on the muse and the creator story. Without further ado, the most WTF scene that was forged in Mother!...the baby eating scene. I had a hard time sitting through that one and I am certain that I was not alone.
The WTF: There were so many WTF moments in Mother! such as...
Ed Harris and Michelle Pfeiffer disrespecting her home with indiscreet hot sex
They came from everywhere with various vile backgrounds to see "the Poet" or invade her home..
They party, they pollute, they fight, and they kill each other -- vicious cycle!
She gives birth to a "baby boy"...with HIM!
But the one to top it all is when "the Poet" Him takes the baby boy from mother's chest to present to these unwelcomed guests. When we think things could not get any worse, the baby is being passed through the crowd while wailing incessantly. And then, whoosh, disappears and stops wailing.
Baby boy just became chow or literally "the body of Christ"?!
The most disturbed of August 2021
The Swarm (6 August 2021)
Director: Just Phillippot
Writer: Jerome Genevray, Franck Victor
Starring: Suliane Brahim, Sofian Khammes, Marie Narbonne
Synopsis: An independent recently widowed mother of two living in the middle of nowhere, France; surviving on breeding locusts for money, took a rather dreadful turn when the swarm of locusts got a taste for blood, human blood that is.
"Some mothers are from another world of psycho!"
Happy August TBHMManiacs!!!
TBHM Tip #17: A mother is the closest being to nature; they will do anything to keep their balance...
Tees
TBHMManiacs Tees: Limited print via Teespring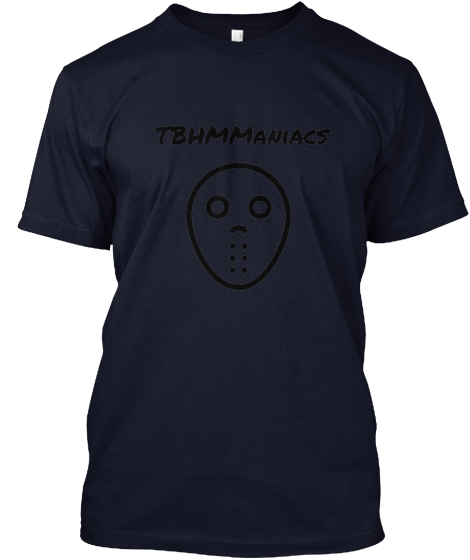 Click on shirt to purchase!
Links Contact Us Frequently Asked Questions
Terms & Conditions Privacy Policy Home
Copyright © 2006 - 2021 TBHM. ALL RIGHTS RESERVED