How do you take your Horror?
Bloody, Ghostly, Scary as Hell or kinda ghastly...?
TheBestHorrorMovies.com (TBHM) is dedicated to horror movie fanatics everywhere that we affectionately nickname TBHMManiacs. We focus on reviewing and recommending the Best of The Three Levels of Horror which are-- Dark Comedy, Slasher, and Supernatural movies. We celebrate both the horror movie heroes and villains (We have our reasons). We strive to introduce each year our wildest selection of Horror movie hotties and hunks (We assure you, our picks are cleverly enticing with your votes of course). We extend our love to our unique scary movie writers and directors by featuring one of our mutual favorites in our Horror giant section annually. We accept your votes to create our yearly top rated lists. TBHM is here to support the greatest horror films by reviewing and recommending them to you via curated lists on our site. We have plenty of juicy Horror topics that we update somewhat weekly (AD military) such as WTF Horror Moments and Dare you to watch. Check us out and Spread your Horror!
MAJOR SPOILER ALERT!!!
Title: The Domestics (2019)
"Good people didn't survive, they did"
Writer: Mike P. Nelson
Director: Mike P. Nelson
Actors: Kate Bosworth, Tyler Hoechlin, Sophia Rosales, Sonoya Mizuno
I was reluctant to watch "The Domestics" because at first glance, it seemed like it would be another formulaic Mad Max a la Straw Dogs meets This is the End flick. However, to my delightful surprise, it was something entirely different. In fact, it was the evolution of a love story mingled with cannibals, murderous rapists, nihilists, feminists, gamblers, fascists, sadists, and height-challenged killers set in a post-apocalyptic lawless America. Mark and Nina West are a couple on the verge of a divorce when the end of civilization happened. They are among the few known as "The Domestics" with no sadistic murderous gang association. While they set out on a road trip to Milwaukee to go check on Nina's parents, their outrageous misadventures begin. Needless to say, countless of WTF moments ensued.
The WTF: There were so many WTF moments in The Domestics such as...
Men craving bedroom fight club
An actual gang named "Sheets" and they wear sheets...
Gamblers are closer to Milwaukee than any other gang affiliations
The evolution of Nina...from wimpy Nina to Badass, gun blazing, shoot'em up and ask questions later Nina
But the one to top it all is the discovery of bloody little, tiny footprints walking away from a fatally wounded body...and when a shocked Nina sees the little girl with the bloodied feet and hands. I was also startled and it came full circle to me. Women and girls are as stealthy as Arya which proves "Cherries" is really the gang to fear in The Domestics Verse.
A Badass Cherry in action...Nina's personal bodyguard, unbeknownst to her. Stealthy AF!
The most misunderstood of April 2019
The Curse of La Llorona (19 April 2019)
Director: Michael Chaves
Writer: Mikki Daughtry, Tobias Laconis
Starring: Linda Cardellini, Raymond Cruz, Patricia Velasquez
Synopsis: La Llorona aka the weeping woman is a ghost with long wet black hair, wearing white and always wailing for drowning her sons in a fit of rage in a river. Legend has it, that she lures unloved kids or orphans by crying and covering her hideous face that was once angelic with her hair or her vail. There are various versions to her story in Mexican folklore that are mentioned and depicted in several shows like Grimm (Season 2 Episode 9) and films like La Llorona (1960). However, this Michael Chaves adaptation is by far, the most terrifying one yet. Yes there are a lot of naysayers out there, recommending people to skip this movie due to their discontentment of the characterization, themes, and location. I myself truly think there were things they could have done differently which by no means reduce the film in its capacity to deliver creepy, nightmare-inducing scenes and another cinematic platform to a folk tale with so many versions that can be explored. Sometimes that is all we crave from a scary movie not a legend authenticity stamp.
"Chilling sound effects!"
Happy May TBHMManiacs!!!
TBHM Tip #12: Don't you dare let Ma drink alone!
Tees
TBHMManiacs Tees: Limited print via Teespring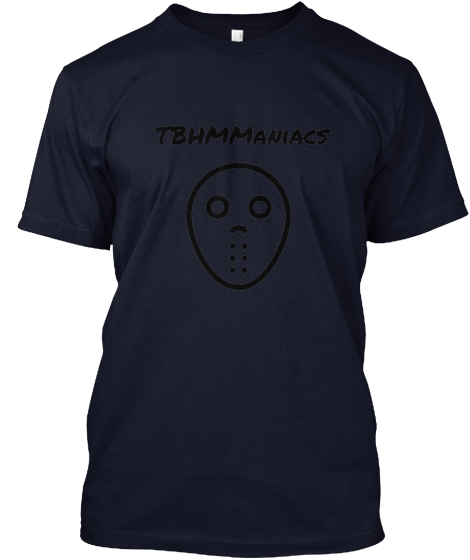 Click on shirt to purchase!
Links Contact Us Frequently Asked Questions
Terms & Conditions Privacy Policy Home
Copyright © 2006 - 2019 TBHM. ALL RIGHTS RESERVED