Best Horror of 2014
What is your favorite Horror of 2014
The year was 2014 and horror movies were a plenty but which ones made the best horror movies list? Check out our top picks below that you can also purchase through Amazon by clicking on the mini posters. Enjoy and spread it!
1) Mr. Babadook (Nov 28, 2014)
Synopsis: A single mother and her son are the innocent victims of a haunting by a sinister form. As the story develops, we find out that the mother is a children's book writer who has her own brand of macabre suppressed memories that she may have attempted to purge through her writing. Unbeknownst to her, the darkest version of herself has taken a life of its own and wants to be recognized for what it truly is. I must reveal, this film is a pure mindfuck!
Quote: "Cause if it's in a word, or if it's in a book, you can't get rid of the Babadook.... you'll see him if you look"
Cast: Essie Davis, Noah Wiseman
Director and Writer: Jennifer Kent
Intelligently conceived: Hell ya+++++
2) Jessabelle (Sept 11, 2014)
Synopsis: A young girl loses her fiance and her unborn child in a tragic car accident. She is forced to go stay with her estranged father in Louisiana as he is the last family member. What seemed like an innocent recovery period while reliving her childhood memories, quickly turned out to be a twisted tale of malevolent voodoo that will unravel before her eyes.
Quote:"The dead are back for life."
Cast: Sarah Snook, Mark Webber
Director and Writer: Kevin Greutert and Ben Garant
Twisted and unapologetic: Hell ya++++
3) Deliver us from evil (July 2, 2014)
Synopsis: An atheist cop is haunted with visions after he started investigating a case mired with Arabic supernatural. As the story develops, the protagonist finds himself cornered and requires the help of a fervent priest to aid him in extinguishing this evil spirit and preventing the deaths of his own family.
Quote:"You haven't seen true evil."
Cast: Eric Bana, Edgar Ramirez, Olivia Munn
Director and Writer: Scott Derrickson and Ralph Sarchie
Truly Captivating and gnarly: Hell ya+++
4) The Quiet Ones (April 25, 2014)
Synopsis: A college professor named Coupland, is on a quest to disprove the supernatural through experimentation on a presumed possessed girl named Jane Harper. Coupland sets out to prove his theory with the help of two students and two assistants while subjecting the young possessed girl to questionably unethical treatment in an attempt to cure her "disease".
Quote:"Something unspeakable is happening to Jane Harper."
Cast: Jared Harris, Olivia Cooke, Sam Claflin
Director and Writer: John Pogue and Tom de Ville
Truly demented: Hell ya++
5) Afflicted (July 1, 2014)
Synopsis: Two friends, Derek and Clif, are on a round the world tour for their web series, equipped with their camera and dedicated to film everything and everyone in their path. Derek, whom had a very fragile health status, soon contracts yet another life altering "disease" after an one night stand.
Quote:"Captured. On film"
Cast: Derek Lee and Clif Prowse
Director and Writer: Derek Lee and Clif Prowse
Raw and frightening: Hell Ya+
6) The Green Inferno (October 16, 2014)
Synopsis: After a tragic plane crash, a group of activist students from New York City, find themselves prey of the very same tribe in the Amazon that they had set out to protect.
Quote:"No good deed goes unpunished."
Cast: Lorenza Izzo, Ariel Levy, Aaron Burns
Director and Writer: Eli Roth and Guillermo Amoedo
Guitlessly trippy: Hellishly scary+
7) 13 Sins (April 18, 2014)
Synopsis: A feeble salesman is faced with a questionable way of procuring capital to support his family that will leave even a deviant person to doubt their lack of sound judgement.
Quote: "I will dance with a golden toad."
Cast: Mark Webber, Devon Graye
Director and Writer: Daniel Stamm and David Birke
Gruesome and unapologetic: Hell is a place+
8) Wolf Creek 2 (May 16, 2014)
Synopsis: Mick Taylor, the psychotic serial killer, hailing from the outback of Australia is back and this time his killing spree is touched with a cinch of torturous wit. Among his hand-picked kills are a couple of dufus cops, an alert couple hitch-hiking their way to the Wolfe Creek Crater, and an old couple harboring Paul, a feisty tourist. Finally Mick does what he does best, disappearing free and clear into the outback without a cop on his tail to claim retribution. Mick, this clever serial killer, always cover his tracks by leaving a scapegoat to take the fall.
Quote:"Mick's back with a few days to kill."
Cast: John Jarrat, Shannon Ashlyn, Ryan Corr
Director and Writer: Greg McLean and Aaron Sterns
Abundantly witted Serial Kills: Mick must die+
9) Oculus (April 11, 2014)
Synopsis: Two siblings, Kaylie and Tim, are bound to see the end of their family as they knew it when their father purchases a supernatural mirror unknowingly for his office.
Quote:"You see what it wants you to see."
Cast: Karen Gillan, Brendon Thwaites, Rory Cochrane
Director and Writer: Mike Flanagan and Jeff Howard
Wickedly terrifying: Deceivingly macabre+
10) As Above, so Below (August 29, 2014)
Synopsis: We follow an odd group of young adults, in the quest of a mysteriously hidden stone in the catacombs of Paris. Spearheaded by Scarlett Marlowe, a young Alchemy scholar; what transpires throughout their quest would transform or end their lives as they knew it.
Quote:"The only way out is down."
Cast: Perdita Weeks, Ben Feldman
Director and Writer: John Erick and Drew Dowdle
Hopelessly eerie and scary: Abandon all hope+
Tees
TBHMManiacs Tees: Limited print via Teespring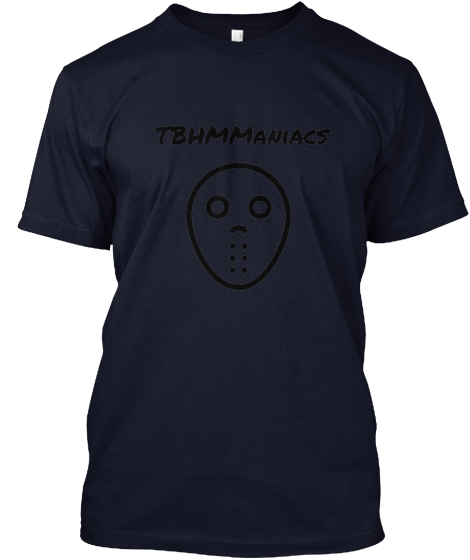 Click on shirt to purchase!
Happy SEPTEMBER TBHMManiacs!!!
TBHMManiacs, We want you!
TBHM Tip #13: Death is the shadow of creation, one cannot exist without the other!
Most Anticipated of AUGUST
Scary stories to tell in the dark: 9 August 2019
Most Anticipated of JULY
Midsommar: 3 July 2019
Crawl: 12 July 2019
The Field Guide to Evil: 26 July 2019
Most Anticipated of JUNE
The Child Remains: 7 June 2019
Head Count: 14 June 2019
The Dead don't die: 14 June 2019
Nightmare Cinema: 21 June 2019
Child's Play: 21 June 2019
Grudge: 21 June 2019
Annabelle comes Home: 26 June 2019
47 Meters Down: Uncaged: 28 June 2019
Play or Die: TBD
Most Anticipated of MAY
Perfect: 17 May 2019
The Lighthouse: 19 May 2019
Brightburn: 24 May 2019
Ma: 31 May 2019
Copyright © 2006-2019 TBHM. ALL RIGHTS RESERVED