Scariest Movies of 2017: TOP 7
Scariest Movies of 2017
SPOILER ALERT!
I
IT: Chapter one (8 September 2017)
Director: Andy Muschietti
Writers: Stephen King, Chase Palmer, Cary Fukunaga, Gary Dauberman
Starring: Jaeden Libierher, Jeremy Ray Taylor, Sophia Lillis, Finn Wolfhard, Wyatt Oleff, Jackson Robert Scott, Chosen Jacobs, Jack Dylan Grazer, Bill Skarsgard
Synopsis: This tale is one of my favorite stories from Stephen King. The narrative that got me naturally terrified of clowns and hateful of bullies. This second adaptation of Stephen King's novel is hands down the better version. There were buzz about this movie years before its release and the day to go watch it could not come soon enough. When I watched the miniseries, I always had to bury my face into my mother's skirt, that was back in 1990. This time around, I persuaded a super cute and strong El Salvadorian to go with me, and yes I was on the edge of my seat even with him present. It follows the storyline of seven friends who are tormented incessantly by this dancing clown named Pennywise unbeknownst to their parents. The cinematography was impeccable, the clown was a lot scarier even to a 80's baby, the kids' fears were implacable and so real, the antagonists were so well portrayed and demonized. Although, there were so many great horror films this year, "IT" had to be one of the most frightening movies. overall it grossed over 700 millions worldwide against a 35 million of dollars budget. I have to be honest, I was on edge for days after watching that movie, that is the impact it had on me, clearly a winner in my book!
So grippingly scary!
II
Get Out (24 February 2017)
Director: Jordan Peele
Writers: Jordan Peele
Starring: Daniel Kaluuya, Allison Williams, Bradley Whitford, Caleb Landry Jones
Synopsis: This movie is so original. I mean in the midst of BLM movement and the Purge movies, this storyline takes height. I was supremely scared by the theme of this film as it was not a supernatural premise. It was all about science meets a dark family predisposition. This movie could actually be the cause in the recent reduction of interracial dating rates. It goes like this, a seemingly happy and comfortable interracial couple sets out to visit the girl's caucasian family. Upon their arrival at the home, the boyfriend is treated as a very precious cargo. The groundskeeper and housekeeper are black and act fully bat shit cray cray. We meet the mother who is a hypnotherapist and the father, a neurosurgeon. The perfect couple to relocate consciousness from white, frail, old bodies into strong, young, healthy black vessels for a massive fee paid only by the eccentric wealthy and white closed niche for decades via an auction setting. Yes that is exactly what they are as a family. A business. The daughter lures men into meeting the parents with this hidden agenda. The son holds them down during the process. But they never expected this, Chris was not a typical young black male as he had access to a super agile TSA friend and he was a fighter. It was an educational watch!
"Humans" has nothing on this movie!
III
Happy Death Day (13 October 2017)
Director: Christopher B. Landon
Writers: Scott Lobdell
Starring: Jessica Rothe
Synopsis: The unfortunate repeated slashing of a life-loving, party-going, sorority member, and popular college student who finds herself reliving her birthday a la GroundHog Day after being murdered by a mysterious stalkerish killer with a laughable mask. Although, very formulaic but purely irrestible!
"50 Cent never sounded so eerie!"
IV
XX (17 February 2017)
Director: Jovanka Vuckovic, Roxanne Benjamin, Annie Clark, Karyn Kusama
Writers: Jovanka Vuckovic, Roxanne Benjamin, Annie Clark, Karyn Kusama, Jack Ketchum
Starring: Natalie Brown, Melanie Lynskey, Breeda Wool, Christina Kirk
Synopsis: As I was watching this anthology of four distinct stories (The Box, The Birthday Party, Don't Fall, and Her Only Living Son), it made me think about my own writing. One story in particular, resembled closely something that could be mustered from my mind, yes you guessed it right, "The Birthday Party" one. It was such a cynically ingenious representation of how one unforgettable event can define an individual for the worse. It does not even necessitate the title emphasis at the end. All the plots, except for "The Box" were summoned from creatively maverick women writers. Don't expect any happy endings!
Raw and true to the core!
V
It Comes at night (9 June 2017)
Director: Trey Edward Shults
Writers: Trey Edward Shults
Starring: Joel Edgerton, Christopher Abbott, Carmen Ejogo, Riley Keough
Synopsis: This premise is not so original but the actors and the cinematography made it so worthwhile. A family of four resides in a cottage in the woods. They do everything indoors and when they go outside they wear gas masks, which suggests the presence of nerve, blood, blister agents. This movie is really not about the unknown but the common monster hiding in plain sight. It's about survival and at what lengths this family will go to stay alive. The ugly things they will do to remain safe while losing their humanity in this post-apocalyptic world.
"Gas masks are used for a reason, unseen yet reason enough!"
VI
Annabelle: Creation (11 August 2017)
Director: David F. Sandberg
Writers: Gary Dauberman
Starring: Stephanie Sigman, Anthony Lapaglia, Miranda Otto
Synopsis: One of the scariest movies of 2017. The storyline was nicely put together. I was positively terrified watching it and I was not even alone. My El Salvadorian companion was also petrified with the quick cuts and this seriously evil doll, or was it the doll? I enjoyed the scare tactics and plot devices used throughout, they were very effective. Nevertheless, I sincerely never expected it to end this way. Be prepared to get scared out of your wits!
Dolls are evil, or mere demeure for ghoulish spirits!
VII
Veronica (25 August 2017)
Director: Paco Plaza
Writers: Paco Plaza
Starring: Sandra Escacena
Synopsis: I knew nothing of this Spanish film until a co-worker mentioned it to me. I watched it last night and let me tell you. The Enfield Poltergeist and Vallecas case have nothing on this film. Yes this movie is loosely based on them but there was something too real about this one. After playing with the Ouija board, Veronica's body is taken possession by a terrifying spirit. I can't tell if it's because the girl playing Veronica seems so familiar or that her acting is exceptionally compelling, it really took me to a place. The little girl in me was horrified!
" Ouija means yes yes or should it be no no??!!"
Tees
TBHMManiacs Tees: Limited print via Teespring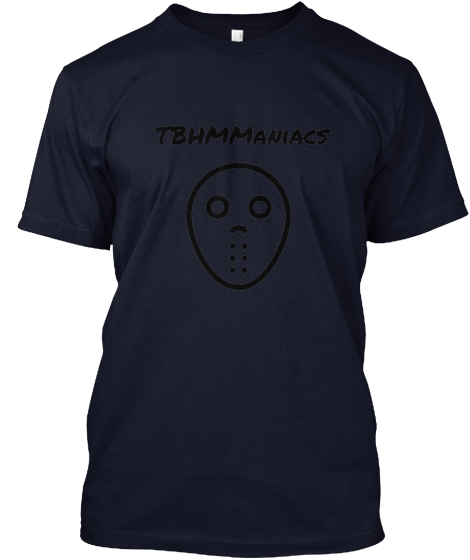 Click on shirt to purchase!
Happy SEPTEMBER TBHMManiacs!!!
TBHMManiacs, We want you!
TBHM Tip #13: Death is the shadow of creation, one cannot exist without the other!
Most Anticipated of AUGUST
Scary stories to tell in the dark: 9 August 2019
Most Anticipated of JULY
Midsommar: 3 July 2019
Crawl: 12 July 2019
The Field Guide to Evil: 26 July 2019
Most Anticipated of JUNE
The Child Remains: 7 June 2019
Head Count: 14 June 2019
The Dead don't die: 14 June 2019
Nightmare Cinema: 21 June 2019
Child's Play: 21 June 2019
Grudge: 21 June 2019
Annabelle comes Home: 26 June 2019
47 Meters Down: Uncaged: 28 June 2019
Play or Die: TBD
Most Anticipated of MAY
Perfect: 17 May 2019
The Lighthouse: 19 May 2019
Brightburn: 24 May 2019
Ma: 31 May 2019
Copyright © 2006-2019 TBHM. ALL RIGHTS RESERVED